The Texas Energy Report BUZZ from the past week or so.
Today's Energy Buzz is on the home page. Click here.
Garcia, Walle (and Garcia?) to Run For Green's Houston Refinery Row District
November 14, 2017
Texas State Sen. Sylvia Garcia says she will run for the US Congress District 29 seat being vacated by Rep. Gene Green, as will a former Gene Green staff member, Houston-area 140th District state Representative Armondo Walle.
In a tweet Tuesday, Garcia said,
Today I officially announced my run for Congress in TX District 29. Now more than ever we need fighters in congress willing to stand up to Donald Trump and support our communities. Join & follow our campaign!
Garcia cited President Trump is a particular reason she decided to run, stating "we need a champion for the people in Washington to stand up" against the president.
District 29 includes several oil refineries and other industry related businesses in east Houston and a portion of Pasadena.
The Houston Chronicle reports that the chair of the Harris County Democratic Party said Harris County Sheriff Adrian Garcia, who ran for the District 29 seat against Green last year but lost by 19 points, has requested paperwork to file for candidacy again.
___________
TAB Sets Sights on Rebuilding Pro-business Legislature: QR
November 14, 2017
A lawmaker report card is only one of a number of steps the Texas Association of Business is ready to take to make sure the 86th legislature is not another anti-business session, the Quorum Report said Tuesday.
Business leaders say they too often saw lawmakers working at cross purposes with them on key business issues: a pitched battle over the so-called bathroom bill; another round of sanctuary cities legislation; and an attempt to reverse course on incentive programs under Chapter 313.
TAB, like many non-profit associations, keeps something of a firewall between its PAC and its membership, but the board's new mandate is clear: Get active in the Republican primaries. So CEO Jeff Moseley is doubling down on the fundamentals.
___________
Houston-area US Rep. Gene Green Will Retire from Congress
November 13, 2017
Longtime Texas Democratic politician Gene Green will retire from Congress next year, according to several sources.
The Houston-area US representative, whose constituents include both upstream oil production and downstream refining interests, was elected to the US House in 1992 after two decades in the Texas Legislature.
He's now the 6th US House member from Texas to announce his intention not to run for re-election.
Most recently, Houston-area Rep. Ted Poe said he was retiring to spend more time with family; Green says the same.
San Antonio's Lamar Smith, the Dallas area's Jeb Hensarling, Sam Johnson of Richardson and Beto O'Rourke round out the list of House members from Texas who say they won't run again for the offices they hold.
All are Republicans, except for O'Rourke, who is running against Republican US Senator Ted Cruz, and Green.
___________
Texas Among Top States In Lower-Carbon Grid Modernization: Report
November 9, 2017
Texas is among the top three states rated as moving most quickly to modernize its electric grid in a new report from a stakeholders group that educates and promotes a more modern national electrical system.
The GridWise Alliance's fourth assessment of grid upgrades lists California as the leader in modernization, followed by Illinois, with Texas third.
The alliance joined with the low-carbon-promoting group Clean Edge Inc. in assessing state policies, grid investments and construction, along with customer engagement and support from state leaders, with an eye toward clean energy installations, with Texas and the other two states noticeably ahead of all others.
The group's latest Grid Modernization Index tracks closely with information already available on increases in wind and solar energy installations, notably in Texas, California and Nevada.
Rounding out the top ten states are Maryland and Oregon, Arizona, Washington DC, New York, Nevada and Delaware.
Note: AEP recently said it plans to invest $18.2 billion in capital from 2018 through 2020 with 72 percent of that investment focused on its transmission and distribution operations.
The company expects to invest $1.8 billion in new renewable generation during this period, including approximately $1.3 billion for competitive, contracted renewable projects.
These planned investments do not include the  Wind Catcher project in Oklahoma, which is dependent on regulatory approvals in 2018.
___________
Texas State Rep. Isaac Says He'll Run for Lamar Smith Seat
November 9, 2017
Texas District 45 state Representative Jason Isaac says he's running for the US Congress District 21 seat being vacated by Lamar Smith.
Smith last week said he will not seek re-election to the District 21 position next year.
That district includes portions of Bexar Comal, Hays, and Travis counties and encompasses Bandera, Blanco, Gillespie, Kendall, Kerr, and Real counties.
Isaac was a co-author of a bill in this year's legislature that would have included alternative fuel signs such as electric car recharging stations to be included along Texas highways, though the bill never made it out of the Transportation Committee.
In a statement Thursday afternoon, Isaac wrote that he's "humbled that many of my constituents have asked me to run, and I look forward to discussing the issues as I campaign across the district."
Isaac said he's committed to fulfilling his term as a state representative.
___________
Former RRC ED New President of TX Alliance of Energy Producers
November 9, 2017
A 22-year veteran of the Railroad Commission of Texas is the newly-elected president of the Texas Alliance of Energy Producers (TAEP), the largest statewide oil and gas association representing independents.
The group's executive vice president, John Tintera, moves up to president after Wednesday's vote, with Tiger Eye Resources LLC President Jim Beck taking over as TAEP's new vice president.
Tintera is taking over for Alex Mills, who's stepping down as president.
Tintera is an expert at oil and gas regulatory issues, having served as executive director at the Railroad Commission, and has handled TAEP's government relations duties on both the state and federal levels.
Mills says he's retiring, but intends to continue to write his energy column for The Texas Energy Report and some state newspapers.
Tintera will become chief of staff, responsible for daily operations.
The alliance's Vice President Jo Anne Baker, who's been with TAEP for more than 25 years, has been re-elected as board secretary.
Chairman of the Board Robert W. Osborne said Thursday that the alliance "is very fortunate to have three experienced professionals to come forward to lead this great organization at this critical time.
"The industry has been through a very rough period, but we've had stability for about a year now, and conditions are looking much better."
Osborne's two-year term as chairman will end in April, after which Beck will assume the chairman position.
Beck, a petrophysicist and geologist for ANR Production and Transco Exploration, spent 11 years with Schlumberger and for ten years was president of Seneca Resource Corp.
___________
US House Votes to Speed Hydropower Permit Process
November 9, 2017
The US House of Representatives on Wednesday approved a bill to overhaul the permitting process for hydropower projects.
The Hydropower Policy Modernization Act speeds up the timeline for approving hydro projects and aims to run all permitting decisions through the Federal Energy Regulatory Commission (FERC), The Hill reports.
The House approved the bill on a 257-166 vote.
"Ensuring the stability of the grid and improving infrastructure continue to be at forefront of the national debate, which is why modernizing the hydropower licensing process should be a top priority for Congress and the administration," said Linda Church Ciocci, the Executive Director of the National Hydropower Association.
__________
Shell Enchilada Platform Fire Said to Be Under Control
November 8, 2017
Two people have been injured and about 46 workers evacuated after an oil platform fire in the Gulf of Mexico.
The Coast Guard responded to calls for help Wednesday at the Shell Enchilada platform about 112 nautical miles south of Vermilion Bay, Louisiana.
The platform was safely shut down and workers were evacuated by lifeboat, then taken by supply boat to Shell's nearby Salsa platform, the company said.
The two injured were emergency-helicoptered to University of Texas Medical Branch in Galveston.
Shell said in a statement that "no harm to people or the environment is ever acceptable and Shell deeply regrets that this incident occurred."
The company's nearby platforms were shut down as a precaution.
The US Department of the Interior's Bureau of Safety and Environmental Enforcement is investigating.
While the fire was life threatening, a statement by Shell this evening said it "has been reduced to a small flame coming out of a pipe on the platform."
Word of the fire hit Wall Street this afternoon, helping (along with an EIA increased-crude-inventory report) send WTI briefly flirting with $58 a barrel before settling down at about $56.82 at close.
__________
Huffines Named to Committee Overseeing Radioactive Waste Disposal
November 8, 2017
Dallas State Senator Don Huffines has been named to the Compact Facility Legislative Oversight Committee, the panel that oversees a commission responsible for efficient disposal of radioactive waste in Texas.
That commission, the Texas Low-Level Radioactive Waste Disposal Compact Commission, is a group of six commissioners from Texas and two from Vermont that enforce rules for the handling and underground disposal of low level radioactive waste, much of it from out of state.
There is also one alternate member of the commission: Vermont's Jane O'Meara Sanders, wife of former Presidential candidate Bernie Sanders.
Lieutenant Governor Dan Patrick named Huffines to the committee on Friday.
The company Waste Control Specialists has been disposing of the waste, made up largely of building materials and other contaminated items from hospitals and closed nuclear plants, in undergound facilities in Andrews County, northwest of Midland.
One of the commission's members is Richard H. Dolgener, longtime Andrews County Judge.
The original agreement, called the Texas Low-Level Radioactive Waster Disposal Compact, is an interstate contract between Texas and the states of Maine and Vermont aimed at ensuring cooperation in the management and disposal of low-level radioactive waste from all three states at a site in Texas.
State Senator Kel Seliger and Representative Brooks Landgraf's Senate Bill 1667 passed by the 2017 legislature clarifies that the commission is an independent group established by federal law and is not a state agency.
___________
Lebanon – the next front in the Great Gas War: Malone
November 8, 2017
The Great Gas War has already two distinct fronts: The now relatively quiet Northern Front in Ukraine and the Southern Front in Syria in which the Western empire has been losing. It looks to me that Lebanon is being targeted as the next front, where the West hopes its loses might be recouped.
Yesterday, November 6th,  Reuters reported,
Saudi Arabia said on Monday that Lebanon had declared war against it because of attacks against the Kingdom by the Lebanese Shi'ite group Hezbollah.
This comes after Israel, Saudi's long time though largely un-offical best friend in the region,  has been very publicly preparing to renew its own war with Lebanon – or more accurately with Hezbollah.  As the American news journal Newsweek put it recently,
ISRAEL PREPARES FOR ANOTHER WAR WITH HEZBOLLAH AS IDF PRACTICES LEBANON INVASION.
Why now and why Lebanon?  Well the rulers of Saudi Arabia, a Sunni dominated country, will tell us that it is because Hezbollah is a Shia terrorist organisation. "Hezbollah" literally means the "Party of Allah" or "Party of God."  Saudi Gulf affairs minister Thamer al-Sabhan yesterday pointedly referred to Hezbollah as, "the Lebanese Party of the Devil".
Saudi is not alone of course, Hezbollah has also been listed as a terrorist organisation by America, Israel, the Arab League, the UK and the EU. It is also, however, part of the popular government of Lebanon, having seats in its parliament.
I suggest, however, a powerful reason that a new war with Hezbollah may be in the offing is because Lebanon is the next link in any gas pipeline that could potentially bring Iranian Gas to Europe. That was the reason the West decided to "liberate" the Syrian people and it will be why they decide to enforce the same salvation upon the people of Lebanon. Having failed to liberate the Syrians, Saudi, the West, its Sunni Gulf allies and Israel will now see if they can succeed in blocking any Iranian gas ambitions by liberating the Lebanese from their own government.
I would not be surprised to hear quite soon from opposition groups vocally denouncing the government or at least Hezbollah. I expect spokespeople from those groups to suddenly get a global platform alongside American and regional supporters such as Saudi.
When I look at Saudi Arabia I can't help but notice that it has, in a short space of time, started wars in neighbouring Yemen and Syria, and declared first Qatar and now Lebanon to be supporters of terror if not actually themselves terrorists. Saudi has gone from a nation surrounded by allies, or at least states with whom it had basic diplomatic relations, to a nation surrounded by enemies.  It begins to remind me of Israel in that respect.
Gas of course is not the be all and end all. In many ways it is a surface marker, the means for regional and global struggles for political power and influence.  For Saudi it is the basis of its struggle for regional supremacy with Qatar. For America it is the regional marker for its proxy struggle with Russia for political dominance and for control over gas supplies to Europe.
America has sided with Saudi Arabia. Russia and China have sided with Qatar.  Qatar struck a decisive blow for dominance and for a new Qatar focussed power structure when it opened the region's only clearing house for settlement of Gas contracts in Yuan.
I see the political turmoil inside Saudi as a struggle between those who see the House of Saud's only hope for a future to be that of remaining firmly aligned with America and therefore by extension, with Israel, versus those who might consider switching or at least splitting their allegiance so as to move closer to Russia/China. A move which might be correct but which would concede to Qatar some large portion of what has been up till now Saudi's pre-eminence.
Wars in Yemen, Syria and soon Lebanon make the divide between these two possible futures for The House of Saud very sharp.
For Israel it will mean war and troops on the ground. America will certainly help in the air but Israel will shed blood on the ground.
What will Russia do? I doubt it will put troops into Lebanon. But I could very easily see it extending into Lebanon the air support it has deployed in Syria. I could see Iran being tempted to send troops or at least 'advisors' or perhaps just 'allow' zealots who want to go, to do so. And that itself may be part of what some in America would like – tempt Iran into lending support and then declare anew that Iran is, pointing to new evidence, a state sponsor of international terror.  America has desired a confrontation with Iran for a long time and may want a new excuse.
The Great Gas War has not finished. I suggest it is about to open a new front. A front that could ignite a wider conflict.
__________
Jeff Judson May Run For Lamar Smith Congressional Seat
November 7, 2017
Former Texas Public Policy Foundation President Jeff Judson said on Tuesday that he's forming an exploratory committee for a possible congressional run for Rep. Lamar Smith's seat.
In a surprise move, Smith said last week he won't seek re-election.
Judson said he'll soon make his decision on whether to run, saying in a statement that "grassroots leaders and public officials have all encouraged me to run.
"I believe I have the right balance of conservative philosophy, deep connections to the district, and public policy and political experience to serve the Texas Hill Country and San Antonio in Congress.
"But the courage to act decisively and to push boldly for needed reforms are the most important aspects of my personality, given the low productivity of politicians in Washington."
__________
More Texas 3Q Earnings Roundup: Matador, Magellan, Buckeye, NRG, Spectra and … Sempra
November 7, 2017
Matador Resources Co. posted third quarter net income of $15 million, topping Wall Street expectations.
The Dallas-based independent oil and gas company listed revenue at $126.3 million. Eight analysts surveyed by Zacks at CNBC expected $121.8 million.
Buckeye Partners LP reported net income of $116 million, down from $156 million in 3Q 2016.
The Houston company's adjusted 3Q cash flow was up compared to the same quarter last year, from $271 million then to $277 million in 2017.
Houston's Spectra Energy Partners LP reported net income of $471 million that includes net income from controlling interests of $460 million in the third quarter 2017.
Cash flow for the natural gas transmission company was listed at $505 million, up from $430 a year ago.
Magellan Midstream Partners posted a 3Q decline from the second quarter from $619 million down to $573 million, which is still more than $20 million stronger than the same quarter last year.
Magellan's distributable cash flow was down from a year ago and from the second quarter's $250 million, landing at $235 million in the third quarter.
Magellan said there were damages to the bottom line caused by Hurricane Harvey but most of the problem was with refined products, which were down because expenses were higher than expected.
Hurricane Harvey had a higher impact on NRG Energy, with 3Q earnings down from $402 million last year at this time to $171 million in 3Q 2017.
The Houston electricity generator and retailer's revenues were down 10% at about $3 billion.
In the earnings call last week, NRG's CEO Mauricio Gutierrez noted that ERCOT's summer wholesale prices fell 43% below expectations.
Healthy exploration levels raised Houston seismic specialist Dawson Geophysical 3Q revenue by 60% to $45 million, beating the 38% investors expected.
And Sempra Energy — the company working to buy Texas' power distributor Oncor — took a $208 million after-tax writedown in case its costs associated with California wildfires are not allowed by the California PUC to be passed onto customers.
The San Diego-based company pegs wildfire-related charges at $379 million.
The company's San Diego Gas & Electric utility posted a net loss of $28 million in the third quarter of this year, caused mostly by the above mentioned writedown, compared with earnings of $183 million 3Q last year.
__________
Houston-Area US Rep. Ted Poe Says He Will Not Seek Re-Election
November 7, 2017
In a Tweet Tuesday evening, Houston-area Rep. Ted Poe said he will not seek re-election to the US House of Representatives next year.
He first took office in the Texas 2nd Congressional District on January 3, 2005.
Just this morning, Poe announced his participation in a "bipartisan push to amend and improve the USA Liberty Act, to ensure that the bill adequately reforms a sweeping, secretive government spying program."
Poe follows Texas Speaker Joe Straus, District 8 Texas Rep. Byron Cook, Texas' US Rep. Lamar Smith and others in the past two weeks announcing their intentions not to run for another term in office.
Rep. Ted Poe's announcement:
"Dear Neighbors:
"Today I am announcing that I will not seek re-election to the US House of Representatives in 2018.
"I am grateful for the honor and privilege to represent the best people in America, Texas' Second Congressional District.
"Thanks to the good Lord, I'm in good health, but its time for the next step.
"I am looking forward to spending more time in Texas, especially with my 12 grandkids who have all been born since I was first elected to Congress.
"I am proud of the work that my office has accomplished: Giving crime victims a voice, helping to combat human trafficking, and fighting for our Constitutional rights and individual liberty.
"I will continue this work every day until I retire at the end of this term.
"And that's just the way it is."
Here's a link to his Facebook page.
__________
Oil and gas index shows Texas producers continuing to recover: TAEP Press Release
November 3, 2017
WICHITA FALLS—Upstream oil and gas activity in Texas sustained a modest expansion into the 10th straight month in September, according to the Texas Petro Index, which rose to 181.4, 21.4 percent higher than in September 2016 and 22.4 percent higher than in November, when the TPI hit bottom at 148.2.
"Crude oil prices in Texas have been the essence of stability for more than a year," said Karr Ingham, the economist who created the TPI and updates it monthly, noting that average monthly oil prices in Texas have increased slowly but steadily since dipping to a low of $27.08/bbl in February 2016. "Demand is beginning to show signs of recovery and foreign oil suppliers led by OPEC appear to be committed to maintaining announced production cuts."
Ingham said another sign that upstream oil and gas companies in Texas have continued to regain economic vitality since the last downturn is the steady increase in numbers of employees producing oil and gas.  According to the TPI, the payrolls of companies producing oil and gas in Texas averaged, 222,925 during September, about 30,900 more than the nadir of industry employment, about 192,000 in December 2014.
"Spurred by the little uptick in prices, Texas producers this year through September have recovered nearly 10.8 million barrels more oil than in the first nine months of 2016," Ingham said. "It is uncertain how long the current pricing environment will continue and where we'll go from here.  But the momentum of the TPI indicates Texas producers will recovery a record volume of crude oil during 2018."
TPI Highlights in September:
Estimated crude oil production in Texas totaled more than 103.4 million barrels, 11.6 percent more than in September 2016.  With oil prices in September averaging $46.06/bbl, the value of Texas-produced crude oil amounted to more than $4.76 billion, about 24 percent more than in September 2016.
Texas natural gas output declined 2.7 percent compared to September 2016 to slightly more than 639.4 billion cubic feet.  With natural gas prices in September averaging $2.79/Mcf, the value of Texas-produced gas decreased 5.6 percent to more than $1.78 billion.
The Baker Hughes count of active drilling rigs in Texas averaged 453 units, 85.7 percent more units than in September 2016 when an average of 244 rigs were working.  Drilling activity in Texas peaked in September 2008 at a monthly average of 946 rigs before falling to a trough of 329 in June 2009.  In the economic expansion that began in December 2009, the statewide average monthly rig count peaked at 932 in May 2012 and June 2012.
The number of original drilling permits issued was 903, 21 percent more than the 746 permits issued in September 2016.
An estimated average of 222,925 Texans remained on upstream oil and gas industry payrolls, about 16.1 percent more than the revised average of 192,025 in September 2016, but about 24.5 percent fewer than the estimated high of 295,168 in December 2014.  According to revised TPI estimates, the trough of upstream oil and gas employment in Texas before the expansion ending December 2014 was 168,711 in October 2009.  During the previous growth cycle, industry employment peaked at 211,127 in October 2008.
ABOUT the TPI:  The Texas Petro Index is a service of the Texas Alliance of Energy Producers, the nation's largest state association of independent oil and gas producers.
__________
Electric Vehicle Tax Credit to Be Eliminated: US House Tax Plan
November 2, 2017
The tax plan being touted by Republicans in the US House of Representatives would eliminate an electric vehicle (EV) tax credit of $7,500 after tax year 2017, according to a summary of the plan released Thursday.
Railroad Commission of Texas commissioner Wayne Christian said in response that he sent a letter earlier this week to Houston-area Congressman Kevin Brady encouraging the elimination of the credit.
Brady chairs the Ways and Means Committee and has been in charge of assembling the committee's tax plan.
"These Obama-era subsidies circumvent the free-market by picking winners and losers, while doing virtually nothing to tangibly protect the environment," Christian wrote.
"Additional subsidies exist at a state level, and I hope Texas has a similar discussion prior to the next legislative session."
The EV advocacy group Plug In America said in a statement, "This is a terrible idea. Fortunately, this is just the beginning of the discussion, not the end of it."
Indeed, the elimination of the deduction is far from a sure thing; the US Senate is coming up with its own version of the new tax plan and there'll be lots of debate and rewrites, Congress and lobbyists promise.
The overhaul of the tax code presented by the House Ways and Means Committee would eliminate a number of deductions, but the elimination of the EV credit would have an immediate impact on vehicles already in the making, especially on the fledgling designs by Tesla, which has been running up big bills, working on a cheaper, $35,000 car.
Tesla stock was down 6.8% in late trading after word came of the tax plan.
GM and Nissan also offer EVs and other manufacturers are planning for new EV models in the near future, and the tax credit has of course been a lure for consumer purchases.
GM released a statement Thursday expressing disappointment with hopes that Congress will have second thoughts. "Because General Motors believes in an all-electric future, we will work with Congress to explore ways to maintain this incentive," the company said in a statement.
The Boston Consulting Group released a report on Thursday saying hybrid and fully electric cars are poised to "cut the global market share of internal combustion engines" by about half between now and the year 2030.
Still, electric vehicles are years away from being cost competitive; the lack of tax deduction incentive will be a blow to the market, but research and development will obviously continue, especially because of state laws such as those in California which mandate that automakers meet a certain percentage of EV sales each year, with mandates that 22% of vehicles sales must be electric by 2025.
If the tax credit is eliminated in the final overhaul by Congress, though, the big question may be what effect it will have on development of more efficient energy-storage batteries and improvements in EV charging stations.
__________
Lamar Smith Says He Won't Seek Re-Election
November 2, 2017
San Antonio/Austin US Representative Lamar Smith says he won't seek re-election when his current term ends after the 2018 election.
The chairman of the powerful House Science Space and Technology Committee is known as a climate change adversary who has pressed to change the system of government-subsidized renewable energy sources, preferring to allow the markets more control.
Smith, 69, has served in Congress since 1989, and said in a statement Thursday that "for several reasons, this seems like a good time for me to pass on the privilege of representing the 21st District to someone else. I have one new grandchild and a second arriving soon!! And I hope to find other ways to stay involved in politics."
His district is seen as solidly Republican, but a challenger, Democrat Joseph Kopser, has already raised $219,000 for the campaign, according to Politico.
__________
Adequate Generating Capacity for Winter and Spring: ERCOT
November 2, 2017
ERCOT says it expects that there will be enough generating capacity to serve the state during increasing peak demand this winter and spring.
This winter, peak demand is expected to exceed 61,000 MW, above the 59,650 MW winter record from last January, The Electric Reliability Council of Texas said Wednesday in its Seasonal Assessment of Resource Adequacy report.
About 81,000 MW of total capacity is expected to be available during peak demand periods this winter.
ERCOT also said that by mid-December it will finish reviewing plans for the retirement of two generating plants to determine whether they're needed for electricity transmission system reliability.
Vistra Energy announced last month that its Luminant subsidiary intends to close three coal fired plants — the Sandow, the Monticello and the Big Brown — next year, but ERCOT approval is required.
ERCOT gave the okay Wednesday to shut down the 1,800 MW Monticello in January 2018.
Meanwhile, there should be 1,400 MW of new power coming online, mostly from solar and wind projects, the power regulator said.
__________
U.S. Trade Panel Backs Solar Tariffs: WSJ
November 1, 2017
In a move that could disrupt the booming solar energy trade in the US, federal officials are recommending an import tariff of up to 35% on solar panels.
The US International Trade Commission (ITC) on Wednesday made the recommendation to the Trump administration as part of an effort to protect solar manufacturers in the US from increasingly lower-priced imports that are impairing American companies' ability to compete.
Solar industry companies have been anxious about whether the administration will add a tariff.
The Wall St. Journal reports some members of the ITC say the protections are needed against the large number of underpriced imports and panel installers, but many in the solar industry worry that the resulting rise in prices will cut demand for solar arrays that the cheaper imports supported.
Both sides say thousands of jobs are on the line.
__________
Petroleum Stockpiles and Oil Futures Down, Pioneer Up
November 1, 2017
Oil prices were down slightly after the Energy Information Administration said Wednesday that petroleum stockpiles were generally down, though domestic production was up to 9.55 million barrels per day last week (ending 10/27), about 500,000 barrels more than the week before.
US commercial crude stockpiles were down by 2.4 million barrels, gasoline inventories down by 4 million barrels, petroleum products down by 5.8 million barrels, when compared with the previous week.
Analysts had expected a 1.8 million-barrel drawdown in crude oil and 1.5 million-barrel decline in gasoline stocks.
For comparison, the American Petroleum Institute said Tuesday that crude stockpiles were off by 5.1 million barrels, with gasoline stockpiles off by 7.7 million barrels.
Futures closed down 0.02 after briefly topping $55 a barrel for the first time since January.
And Houston's Pioneer Natural Resources reported earnings of 48 center per share, better than the 30 cents predicted by Zacks Investment Research, with Pioneer's revenue climbing 23% to $1.46 billion.
Pioneer reported production up 6%, including a 10% increase in oil production.
__________
TXOGA President On Running For Jeb Hensarling's US Rep. Seat
October 31, 2017
In the wake of news that Texas 5th Congressional District Republican US Representative Jeb Hensarling won't be running for re-election, a number of names of are being floated to run for the office to replace him, among them former Representative Kenneth Sheets and District 1 State Senator Bryan Hughes.
Also among them is Texas Oil & Gas Association President Todd Staples, so The Texas Energy Report reached out to Mr. Staples by Twitter Tuesday night, asking if he would comment.
His reply: "Bryan Hughes!"
___________
Rep. Jeb Hensarling Says He Won't Seek Re-Election
October 31, 2017
US Representative Jeb Hensarling said Tuesday afternoon that he will not run for re-election.
The onetime Green Mountain Energy vice president is nearing 15 years as Texas 5th Congressional District representative and currently chairs the House Financial Services Committee.
There have been rumors that Hensarling would not run again ever since his name was floated earlier this year as a possible Treasury secretary in the Trump administration; Hensarling counts Vice President Mike Pence among his close friends.
__________
New York Investor Buys Controlling Interest In Houston Oil Services Co.
October 31, 2017
A private equity firm is buying controlling ownership of Houston-based industrial and oilfield services provider The Brock Group.
Price and terms of the deal have not been disclosed.
New York's American Industrial Partners is giving Brock a shot of liquidity and capital resources and a significant debt paydown; Brock says it's now in the strongest financial position in recent history.
The investor promises to work with Brock on a "business transformation" to help expand Brock's business.
__________
No Injuries in Texas City Explosion During Refining Restart
October 31, 2017
An explosion early Tuesday morning at a Houston area refinery happened as Marathon Petroleum Corp. prepares to restart a portion of the refining process, sources told Reuters.
An ammonia cylinder burst while being heated as part of preparations to restart the alkylation unit after repairs at the 86,000 barrel-per-day Texas City refinery.
The explosion that awakened nearby residents caused no injuries at the plant or elsewhere, a Marathon spokesman said.
Marathon said there has been no "off-site impact."
Marathon is continuing the restart of the 10,000 bpd alkylation unit the sources said.
The unit had been shut to repair pinhole leaks in piping.
__________
NextEra Sells Texas Wind Farm From One Unit to Another
October 31, 2017
NextEra Energy Inc. is moving some Texas assets from one pocket to another with the formal purchase from NextEra Resources of a wind generation facility in Webb County.
The 250 MW Javelina farm is part of an $812 million deal to put the assets into the portfolio of NextEra Energy Partners, a limited partnership that specializes in non-controlling interests.
NextEra Resources is the company's renewable generation unit.
Both companies are subsidiaries of Juno Beach, Florida-based Next Era Energy Inc., as is Florida Power and Light Co.
All of the assets are long-term contract renewable energy facilities that include minority-interest in Riverside, California solar plants and two wind plants in North Dakota.
The deal is expected to close by the end of the year.
Earlier this year, NextEra attempted to purchase Oncor Electric and its majority owner  Energy Future Holdings out of Texas bankruptcy, but was turned down by the state PUC.
__________
Diamond Offshore's Higher-Than-Expected 3Q
October 31, 2017
Diamond Offshore reported a higher-than-expected quarterly profit after securing more contracts for its deep-water drilling rigs at better rates, sending its shares up as much as 8.3 percent.
A wave of consolidation in the struggling offshore drilling industry has helped increase activity on rigs, while driving a slow recovery in prices.
Rigzone reports the Houston company's Chief Executive Marc Edwards said he was not ready "to call a bottom" in the offshore market, implying there was still some time before prices went up significantly.
__________
Vistra Energy and Dynegy to Combine
October 30, 2017
Vistra Energy, parent company to TXU and Luminant, said Monday it will acquire Houston's  Dynegy following a merger agreement worth $1.74 billion expected to close next year.
It's to be a tax-free, all-stock merger, resulting in a company with combined market capitalization of more than $10 billion and a combined enterprise value of more than $20 billion.
Dynegy shareholders will receive 0.652 shares of Vistra Energy common stock for each share of common stock they own, resulting in Vistra Energy and Dynegy shareholders owning approximately 79 percent and 21 percent, respectively, of the combined company.
It's just the latest in a string of power company mergers this year as producers such as Dynegy take on more debt while profit margins diminish while electricity prices shrink becaue of cheap natural gas from shale fields.
Dynegy operates 27,000 MW of electrical generation facilities in Texas, the Midwest, the Northeast and Mid-Atlantic states.
__________
Brent Holds Above $60
October 30, 2017
Word that OPEC-led oil output cuts will likely continue through at least the first quarter of 2018 sent Brent crude about the crucial $60 mark Monday morning as investor interest increased.
Over the weekend, The Wall St. Journal reported Saudi Crown Prince Mohammed bin Salman again stated his commitment to OPEC oil production cuts and would like to see them extended through the end of 2018, following their expiration at the second quarter of next year.
There has also been a slowdown in oil shipments from Iraq's Kurdish region because of tensions with the Iraqi government over a Kurdish independence vote in September, raising concerns about the risk of oil supply disruptions.
Benchmark Brent futures were 39 cents higher than the open at $60.83 a barrel, not far from their highest since July 2015.
Brent is now 37% above the 2017 low.
WTI was up 49 cents Monday morning at $54.39, approaching an eight-month high.
___________
Texas Oil, Gas and Chemicals Companies Earnings Roundup
October 27, 2017
A number of Texas-related energy companies late this week posted their third quarter 2017 financial earnings reports, among them Chevron, Phillips 66, ExxonMobil, chemicals manufacturer LyondellBasell and utility holding company Excel Energy.
Houston-based Phillips 66 reported an $823 million net profit, which the company said is a 60% increase over 3Q last year and 50% higher than this year's second quarter, with refining profits alone up 100% over 2016, in spite of troubles caused by Hurricane Harvey, including the shutdown of its Sweeny refinery southwest of Houston.
Chevron reported nearly $34 billion in 3Q revenue for a $2 billion profit, up 54% when compared to last year at this time.
The San Ramon, California company saw downstream profits rise 70% and upstream 8% over 3Q 2016.
ExxonMobil also suffered financially from temporary refinery closings, but its earnings increased by 50% in the third quarter anyway, the Irving company said Friday, with nearly $4 billion in net income.
Exxon said it suffered $160 million in damages and losses because of Hurricane Harvey.
And LyondellBasell posted a more than $1 billion profit for the third quarter, despite losing about $220 million in sales because of Harvey, because of better profit margins.
The Houston company posted $8.5 billion in quarterly revenue, with profit up 11% over this time last year.
In the power markets, Xcel Energy Inc. reported Thursday its 3Q earnings of $492 million, or $0.97 per share, compared with $458 million in the same period last year.
Earnings were up because of higher electric margins to recover infrastructure investments, the company said, along with a lower effective tax rate and lower operating and maintenance expenses.
Hurricane Harvey reached the Texas Gulf Coast on August 25th at Rockport, near Corpus Christi.
Bloomberg analysts said this week they expected large refiners to profit considerably from increased gasoline prices nationwide following the hurricane.
__________
Electric Cooperatives Group Adds Panhandle Partner
October 27, 2017
Texas Electric Cooperatives (TEC) continues to add to its growing list of partners with the new addition of the panhandle's Greenbelt Electric Cooperative.
Greenbelt's board earlier this month approved a sourcing alliance with TEC.
The co-op has 5,000 meters in all or part of nine Texas counties.
TEC now has 21 partners and represents 75 electric cooperatives, with Greenbelt the fourth alliance TEC has formed this year alone.
The alliance aims to reduce hardware purchasing costs through group negotiations and agreements.
"Growth is good for our members and it's good for us. With each new alliance, TEC's position in the market to negotiate pricing is strengthened," Johnny Andrews, chief operating officer of TEC Manufacturing & Distribution Services said of the new partnership.
___________
Electric Cooperatives Group Adds Panhandle Partner
October 27, 2017
Texas Electric Cooperatives (TEC) continues to add to its growing list of partners with the new addition of the panhandle's Greenbelt Electric Cooperative.
Greenbelt's board earlier this month approved a sourcing alliance with TEC.
The co-op has 5,000 meters in all or part of nine Texas counties.
TEC now has 21 partners and represents 75 electric cooperatives, with Greenbelt the fourth alliance TEC has formed this year alone.
The alliance aims to reduce hardware purchasing costs through group negotiations and agreements.
"Growth is good for our members and it's good for us. With each new alliance, TEC's position in the market to negotiate pricing is strengthened," Johnny Andrews, chief operating officer of TEC Manufacturing & Distribution Services said of the new partnership.
__________
Onetime Oncor Suitor Now Eyeing Palmetto State Utility
October 27, 2017
Rumors have been circulating in South Carolina that the power company that earlier this year attempted to purchase Texas' Oncor Electric Delivery is now considering a different electric utility.
The Columbia State newspaper said it has multiple sources claiming that NextEra of Florida wants to buy the state-owned Santee Cooper electric provider that's being offered for sale after a botched attempt to expand its nuclear power capabilities.
A NextEra spokesman has said the Florida company, which bills itself as the largest electricity provider in the world, is interested in several utilites, Santee Cooper among them.
Santee Cooper, which provides power to two milion South Carolina residents, along with a financial partner in July abandoned a nuclear reactor expansion project near the state capital of Columbia, after spending $9 billion with the project still far from completion.
Also in July, the Texas PUC nixed NextEra's $18.7 billion attempt to buy Oncor, saying the company's plan was not in the state's best interest.
Oncor is Texas' largest regulated utility; in August the PUC began looking at Sempra Energy's $9.45 billion deal to buy Oncor.
__________
Speaker Joe Straus, Rep. Byron Cook Will Not Seek Re-Election
October 25, 2017
In a campaign email, Texas House Speaker Joe Straus said, "I believe that in a representative democracy, those who serve in public office should do so for a time, not for a lifetime. And so I want you to know that my family and I have decided that I will not run for re-election next year."
In a statement Wednesday morning Rep. Byron Cook said he will "pursue other opportunities to serve our great state," according to the Quorum Report.
___________
LyondellBasell Plans New Gulf Coast Propane-Fueled Plastics Plant: Chron
October 25, 2017
A new $2 billion plant using propane for chemicals and plastics production is planned by LyondellBasell, with the Houston area as a possible location.
The Houston-based chemicals, plastics and refining company's CEO Bob Patel told the Houston Chronicle on Wednesday that the plant will be along the Gulf Coast but it will be a "good part of" a year before a final decision on location and other details are nailed down.
The company is already building a plastics plant in the LaPorte area and a chemicals complex in Pasadena and Channelview, near Houston.
__________
Lt. Gov's Interim Charges List 2: Energy and Water Markets Studies
October 24, 2017
Lt. Governor Dan Patrick released his second round of interim charges for the Texas Senate on Tuesday, which includes studies of water rights permitting, freshwater management and governing of energy markets.
The Business and Commerce committee is charged with checking for market distortions in the free energy markets may have been caused by "government competitive intrusions," and with determining what impact competitive versus non-competitive electric retail markets may have on reliability and price.
The Agriculture, Water and Rural Affairs Committee is tasked with studying and recommending changes to streamline the uniform issuance of water rights permits, and to study groundwater governance to assure that private property rights are protected.
The committee will also be monitoring the implementation of water management legislation passed during the most recent session.
__________
October 24, 2017
The US Department of the Interior says it will propose the largest oil and gas lease sale ever held in the United States — nearly 77 million acres in the Gulf of Mexico off the coasts of Texas, Louisiana, Mississippi, Alabama and Florida.
The sale is scheduled for next March and includes all available unleased areas on the Gulf's Outer Continental Shelf. The proposal surpasses a lease sale conducted last year by about a million acres, the Associated Press reported Tuesday.
___________
October 23, 2017
House Committee Charges Released: Study RRC, Utilities, Eminent Domain, Groundwater and Energy Industry Impact On Texas Roads
Texas Speaker of the House Joe Straus on Monday released a full list of interim charges that included almost every committee and included some emphasis on Hurricane Harvey — for instance, Energy Resources is tasked with examining the Railroad Commission's response to the hurricane and the Environmental Regulation committee charged with examining whether regulations for cleanup and response "adequately protect the public," industrial facilities and others.
The House Committee on State Affairs will be looking at the electric utility industry's response to Harvey to decide whether rules and regulations hinder response to natural disasters.
Taking up a topic touched on at the recent legislative session, State Affairs is also charged with examining the liability of "certain electric utilities that allow the public recreational access" to utility-controlled land.
The House Committee on Land and Resource Management will be reviewing the General Land Office's role and efforts during the hurricane recovery period, looking at state zoning and land use regulations and eminent domain issues.
Land and Resource Management has also been tasked with reviewing the GLO's State Power Program, to evaluate "program offerings to public customers as compared to those available in the retail electric market," and "make reform recommendations."
The Natural Resources committee will look at the status of the state's groundwater policy, including "increasing competition for scarce resources" such as clean water. They will also study the hazards "presented by abandoned and deteriorated groundwater wells."
And the House Committee on Transportation is tasked with evaluating "the impact energy exploration and production have on state and county roads and make recommendations on how to improve road quality."
The full charges list is here.
__________
October 20, 2017
The first hearing date for the new Texas House Select Committee on Economic Competitiveness has been set for November 15th.
A second meeting is scheduled for December 5th.
Speaker Joe Straus named the special seven-member House committee on October 11th, asking them to send a report to him December 12th.
He told the Austin Chamber of Commerce that the panel will work aggressively to find the best way for the state to ratchet up appeal for companies outside the state to relocate here.
___________
October 20, 2017
Schlumberger said Friday its revenues are growing, resulting in $545 million in profits for the third quarter, but Baker Hughes reported in with a $104 million loss as its new owner, GE, warns of a slump deeper than some analysts had expected.
Schlumberberger, riding the expanding shale market boom along with upturns in Asia, Russia and the North Sea, reported revenues of nearly $8 billion.
In contrast, Baker Hughes, which was purchased by GE at the start of the third quarter, posted the $104 million loss on 3Q revenue of $5.38 billion, missing Wall Street forecasts that ran slightly higher, while its new parent company cut its own 2017 profits forecast.
As Bloomberg reports, GE promises sweeping change including the sale of $20 billion in GE businesses with "everything on the table," calling the latest quarter results "completely unacceptable" after cutting its industrial cash flow forecast from $12 billion down to $7 billion.
With regard to offshore drilling, Schulumberger cautioned that "in the US Gulf of Mexico, activity continued to weaken in the third quarter, and the outlook remains bleak for this region based on current customer plans."
___________
October 20, 2017
BP will be paying out up to $8.8 billion over 15 years to help repair environmental damage along the Gulf of Mexico that resulted from the 2010 Deepwater Horizon disaster, and the latest chunk of money from the fund goes to improve ecosystems along Galveston Bay.
More than $5 million will go to five projects that include restoration of 150 acres of marshland, rehabilitation of oil reefs and protection of bird habitats, the Houston Chronicle reports.
And nearly $16 million is being set aside to go to McFaddin Beach and the Dune near Sabine Lake not far from the border with Louisiana, replacing sand along 17 miles of Texas shoreline.
__________
October 20, 2017
The number of US commercial rigs producing oil and gas declined considerably, off by 15 this week to a total of 913, still far above the 553 rigs extant a year ago at this time, according to Friday figures from Baker Hughes GE.
The number of oil rigs declined by seven, natural gas rigs by eight.
There were 736 oil rigs and 177 natural gas rigs, with Texas down eight, Wyoming and Alaska down two and Utah and New Mexico down one.
Offshore drilling rig numbers were flat, but Schulumberger warned Friday that "in the US Gulf of Mexico, activity continued to weaken in the third quarter, and the outlook remains bleak for this region based on current customer plans."
__________
October 18, 2017
Commercial crude oil inventories fell by 5.7 million barrels last week, according to Wednesday figures from the US Energy Information Administration, when compared to the previous week.
S&P analysts had expected a crude drawdown of 3.9 million barrels.
The Cushing, OK oil storage hub was up 202,000 barrels.
Gasoline inventories were up by 900,000 barrels, and distillate fuel was up by more than  500,000 barrels.
US refineries were operating at 84.5% of capacity, with inputs averaging more than 15 million barrels a day.
And crude oil imports were averaging 7.4 million barrels per day.
Supplies are about 21% higher than the five-year average even though oil exports continue to rise.
The Wednesday EIA figures conflict slightly with American Petroleum Institute figures released Tuesday, in which API reported a huge draw on crude oil of more than 7 million barrels last week, with a build in gasoline inventories of nearly 2 million barrels and a drop in Cushing supplies of 151,000 barrels.
__________
October 18, 2017
TCEQ and Railroad Commission investigators are looking for the cause of an oil tank explosion Tuesday in La Salle County, about 80 miles south of San Antonio.
Two oil field workers were taken to San Antonio hospitals by airlift with non-life-threatening injuries, according to the La Salle County Sheriff's Office, saying emergency crews arrived about 11 am to find "several" oil storage tanks engulfed in flames.
A new tank was being built at the Ledwig Ranch location, according to a spokesman for Carrizo Oil & Gas, Inc., based in Houston, which owns the tanks.
The fire investigation is being conducted by the sheriff's office along with the Railroad Commission of Texas and the Texas Commission on Environmental Quality.
___________
October 17, 2017
Environmentalists and some officials are opposing a planned shift in the more than 70-year-old Tennessee Gas Pipeline.
The Federal Energy Regulatory Commission has already approved the pipeline's parent company, Houston-based Kinder Morgan's, request to sell the pipeline to another KM subsidiary, Utica Marcellus Texas Pipeline.
The line change was proposed more than two years ago to cease distribution of natural gas along the 964 miles pipeline that runs from Louisiana to Ohio and replace it with natural gas liquids (NGLs), reversing the flow from Ohio to Louisiana.
But along the route, the Kentucky Environmental Foundation has come out against the pipeline plan, with Program Director Craig Williams, saying "anyone who knows the basic principles of physics will realize it takes more pressure to move liquids than gas."
He cast doubt that the pipeline in its current condition can handle it.
Also on the pipeline route, Madison County, Kentucky, County Judge Reagan Taylor has questioned the ability of the pipeline to handle the weight of NGLs, quoted in the Richmond Register as calling the risks "numerous."
__________
October 17, 2017
The Texas Public Utility Commission has okayed a planned $400 million asset swap between Oncor and Sharyland Utilities.
Under the agreement, Oncor Electric Delivery Co. LLC will gain about 54,000 new customers and continue to maintain 122,000 miles of transmission and distribution lines.
Sharyland Distribution & Transmission Services LLC will gain 258 miles of 345 kV transmission lines in west and central Texas from Oncor.
The transaction is expected to close by the end of the year, with the electrical control transition expected to take up to six months.
As a result of the agreement, Sharyland's customers are expected to see a considerable drop in their electricity rates, which were considered to have been exceedingly high.
When the agreement was announced in July, State Senator Kel Seliger called it "an important development in providing relief to the exorbitant rates Sharyland customers have experienced."
And State Representative Drew Darby, in the Midland Reporter-Telegram, called it "welcome news for our constituents with savings on the horizon, and I'm grateful for Oncor's progress here."
_________
October 17, 2017
A two-member committee has recommended that the California Energy Commission oppose the construction of a new gas-fired power plant that's being developed by Houston's NRG Energy.
In what the committee acknowledges as an unusual move, they recommended the state commission deny approval of the plant to be built in Oxnard, a suburb of Los Angeles, because the plant would not meet local and state regulations.
In a statement, NRG said it's confident that the proposed $300 million plant (that would generate 262 MW) could receive regulatory approval and would make a good replacement for two units of the Mandalay Generating Station in Oxnard, which are being phased out.
Environmentalists have said the gas-fired plant could have negative effects on air quality, pushing for renewable energy instead.
NRG added that it "favors California's move to a carbon-free electrical grid, but remains concerned about local reliability during the transition."
__________
Targa Joins With Blackstone, KM in Pipeline Ventures
October 17, 2017
Targa Resources has a new joint venture agreement to sell a 25% interest in the Grand Prix Pipeline to funds managed by Blackstone Energy Partners.
The Grand Prix, with completion expected by the second quarter of 2019, is intended to move 300,000 barrels per day of natural gas liquids (NGL) from the Permian Basin to Mont Bevieu, east of Houston.
Houston-based Targa has also signed a letter of intent with Kinder Morgan Texas Pipeline for Targa to own a 25% interest in the proposed Gulf Coast Express pipeline, which is expected to provide NGL from the Permian Basin to Gulf Coast markets.
Once completed in 2019, the Gulf Coast Express will be a new 300,000 barrel per day common carrier NGL pipeline from the Permian Basin to Mont Belvieu, Texas.
__________
October 17, 2017
Chaparral Energy Inc. is exiting Texas to go all-STACK
The Oklahoma City-based company said it's sold its North Burbank and Texas Panhandle EOR interests for $170 million, making Chaparral what it now calls a "pure play STACK operator."
Proceeds are expected to pay down debt, "increase liquidity and strengthen our already strong balance sheet," according to CEO Earl Reynolds.
"The sale will also materially lower our overall total operating cost structure, which we view as critical in this volatile commodity price environment."
The deal is expected to close next month.
Chaparral did not name the buyer, but Oil & Gas Investor said Monday that U.S. Securities and Exchange Commission documents list the purchaser as Perdure Petroleum LLC, a Delaware company.
__________
October 17, 2017
It turns out that a Gulf of Mexico oil spill that occurred last week may be the largest since the 2010 "Deepwater Horizon" spill.
The Delta House floating production facility about 40 miles (64 kilometers) southeast of Venice, Louisiana, released 7,950 to 9,350 barrels of oil from early Wednesday to Thursday morning, according to closely held operator LLOG Exploration of Lafayette, Louisiana, Bloomberg reports.
This spill may be large, but it's a fraction of the millions of barrels spilled in the 2010 incident.
Yet data from the US Bureau of Safety and Environmental Enforcement indicate this may be the largest spill in more than seven years.
__________
October 16, 2017
An analyst for the American Action Forum (AAF) said the proposal, announced this month by Energy Secretary Rick Perry, aims to address a "real problem" with "not the best solution."
Philip Rossetti, an AAF data analyst, said the plan "does not promote a policy that would necessarily achieve" a more stable electricity system, and instead would "arbitrarily value nuclear and coal power above their market rates," he was quoted as saying in The Hill.
"The only effect of the [proposal] is to set an arbitrary target of on-site fuel requirements that values coal or nuclear power, regardless of if those sources are able to provide resiliency and reliability at least cost," Rossetti's analysis says.
Perry's proposal has run into headwinds since he unveiled it earlier this month.
The Institute for Energy Research, an energy think tank whose political side endorsed Trump, last week called the plan "excessive and unnecessarily distortive."
__________
October 16, 2017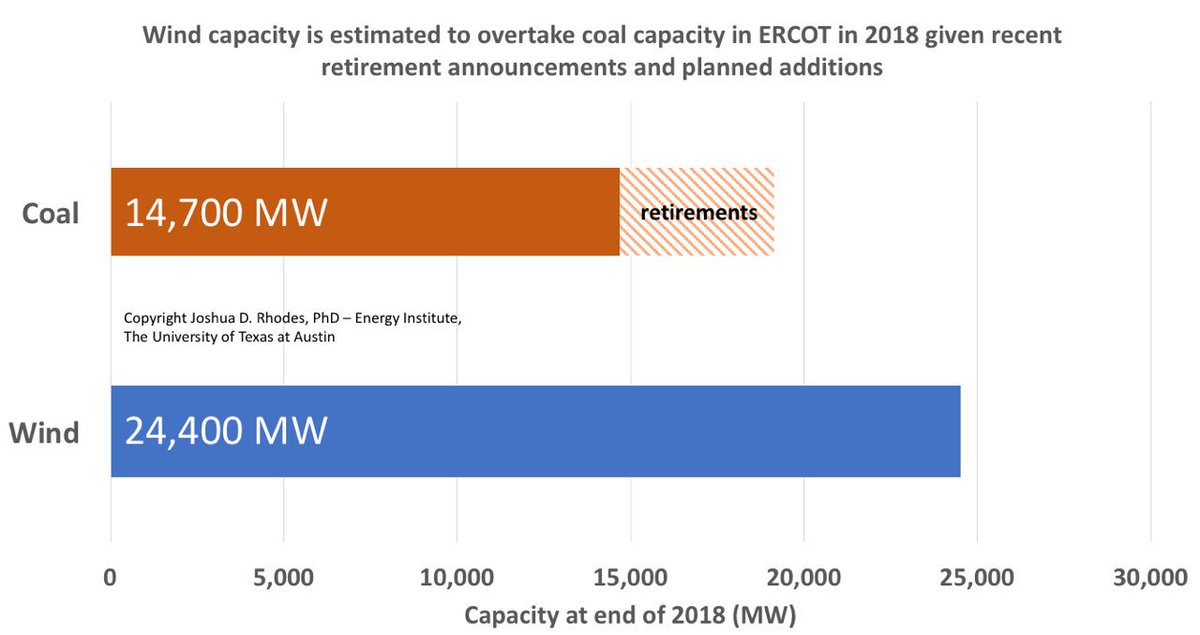 Wind capacity is estimated to overtake coal capacity in ERCOT given recent retirement announcements and planned additions; from Dr. Joshua Rhodes, research fellow at UT Austin's Energy Institute
__________
October 16, 2017
Source: BMI Research
_________
October 16, 2017
Source: @wef, @josephncohen; Read full article
___________
October 15, 2017
An oil rig reportedly owned by New Orleans-based Clovelly Oil Co. exploded in Lake Pontchartrain just north of Kenner, Louisiana on Sunday night.
One person is reported missing and six hospitalized following the blast that occurred about 7:20 pm, according to Jefferson Parish officials, who said they suspect that cleaning chemicals ignited on the surface of the platform.
There were no fatalities reported, but the one person listed as missing is an oilfield worker said to have been on the platform at the time of the explosion.
Kenner police said they're working with city firefighters and the US Coast Guard to put out the flames from the blast.
The New Orleans Advocate newspaper said Sunday night that there are reports that parts from the oil rig were sent flying by the explosive force, and some of those parts hit homes in the nearby city of Kenner.