Hello from the Energy Capital of the Planet!
Click here to request a 3 week trial subscription to the one publication that truly reports on all energy from the perspective of the Energy Capital of the World — Texas! No credit card needed.
A subscription to The Texas Energy Report (TER) is…
Email Notifications — When compelling news breaks, we get it to you as fast as we can, into your email inbox — plus the final market settlements of Texas oil, gas, pipeline and electricity stocks each weekday between 4 pm and 5 pm.

Whether it's petroleum, electricity, wind and solar power, hydroelectric, battery innovations or simply the politics that can make or break an industry, TER has it covered.
You'll also find us on Twitter and Facebook.
Mobile Phone Friendly — Our news delivery systems make the most out of your iPhone, Android and tablet as well as your computer. You'll find the latest news in Texas energy, well, literally at your fingertips.
At the top of each page of our website you can get to the Buzz.
Or find the Buzz just down from the top of our homepage
The Buzz –– As we've been doing for a dozen years, we report not only the latest news from the Texas energy industry, but we specialize in the behind-the-scenes activities by state lawmakers, energy innovators, movers and shakers, industry professionals and how national and world events shape Texas energy.
We do our best to save you time.
Real News — You might not like to see and hear bad news, but y'know the energy industry isn't all rosy, but it's all real and presented fairly.
Good news or bad news, The Texas Energy Report brings it on.
Sure, you can get the upbeat news about oil and gas elsewhere, but our thorough reporting brings you warnings, political complications, critical overviews and opposing viewpoints that are essential to being truly informed.
Daily NewsClips — A daily, carefully-chosen rundown of the hottest news as it affects Texas energy — politically, economically and even culturally — from the same person who gave you the renowned Quorum Report news clips — emailed to you each weekday.
Subscribers get a more-detailed list of daily NewsClips than can be found elsewhere.
TER offers perhaps the most intriguing and comprehensive energy news aggregation on the net, delivered daily into your email inbox with links ready to click for more information.
Plus a hand-picked highlight of each news story to keep you informed even if you aren't all that interested.
Politics & Energy — We cover Texas, but we also cover the world of energy and politics and you'll get a daily update of headlines impacting energy right there on our home page.
Unbiased Reporting — You can spend hours wading through opinions and speculation about energy events and their effects on the industries by checking a number of websites (or even our NewsClips), or you can go to The Texas Energy Report Buzz for facts plainly stated, clearly expressed and with only the minimum required explanation or perspective for those keeping an eye on the industry from outside. We do our best to save you time.

The Archives — What was happening in Texas energy news on April 3rd, 2017 or last November 12th? As a subscriber you'll have the key!

Simply use the search engine in our Archives department for NewsClips and Buzz from those or any other available dates.
Whether the links are still active or not, you still have a summary of the news story and an idea where to begin using an internet search engine.

Analysis –– Keeping an eye on the trends that help shape Texas energy politics and business, from polls and research milestones to local viewpoints and commentary from independent writers, state politicians, Alex Mills, Railroad Commissioners and business people.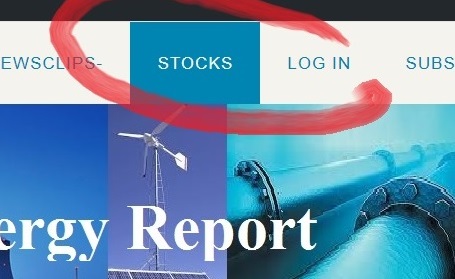 Daily Closing Top Texas Energy Stocks — Your daily after-market-close look at the leading state energy stocks, including gas, oil and electricity providers — EMAILED EACH DAY and found at the top of our home page each afternoon between 4 pm and 5 pm, depending on when the final numbers settle.

Now, What's the Cost? — For $345 per year (just as it's been all these past years) you'll receive one subscription to the exclusive reports and features listed above, with a number of news stories not available elsewhere.
As they say on TV, for less than a dollar a day you can keep up with the fast-moving and innovative events in oil, gas, fracking, electricity, new energy milestones in your email box, on your mobile, your computer, your tablet, and on Twitter and on Facebook.
So How Do I Subscribe? –– Simply click on "subscribe/renew" (or click here) at the top line of our home page and pay by credit card, phone or mail a check.
We Don't Do Recurring Charges — Your subscription will not automatically renew, so don't worry about having to stop your subscription if you decide not to renew.
Your Credit Card Payment Is Secure — We offer payment through our Personal Subscription Service using fully secure data paths, though we offer the option for you to mail a check or use a third-party service (which keeps your credit information on file, though it is not authorized to do recurring payments when your subscription expires).
We'll Send You An Invoice When Your Subscription Is About To Expire — So don't worry, we'll keep you up to date about your account, as we try our best to deliver the highest quality service we can. It's our dedication to serving our subscribers that's helped The Texas Energy Report last these dozen years.
And we're always looking for ways to improve.
Won't you please join us as Texas energy politics and markets go through the biggest upheavals in their history — right now, right there in your email, on your iPhone or Android or computer or tablet?
Click here to subscribe to The Texas Energy Report.